Main content starts here, tab to start navigating
Frequently Asked Questions
How can I get to The George?
The George has two entrances. One is through our hotel lobby, which can be accessed off University St. or Seneca St. There is a separate entrance, for just The George, on Seneca St and 5th Ave, called our Blue Door entrance.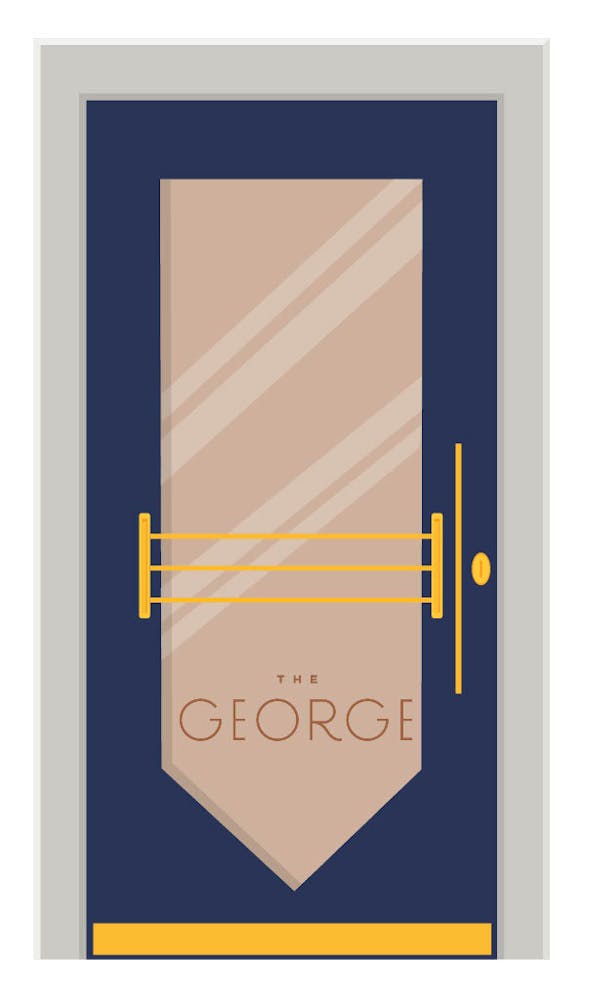 Do you offer a Happy Hour?
We offer our own spin on a Happy Hour - Golden Hour. Golden Hour is offered Monday – Friday: 4:30 pm – 6:00 pm. Golden Hour is available at our bar and in The Parlor, offering neighborhood pricing on Chef's favorites off The George dinner and lunch menu with curated cocktails. Not applicable for carryout or in-room dining.
I am interested in reserving the Private Dining Room, The Parlor, or other areas of The George for large groups. Who can I contact?
For more information contact thegeorge@fairmont.com with date, time and party size.
What are my options for parking?
There is a parking garage directly across from our Blue Door entrance off Seneca St and Fairmont Olympic also offers valet parking at our main entrance off University St.
Can I arrive early to my reservation and grab a drink at your bar or The Parlor area?
Of course - as long as it is during hours of operation of The George, come and grab a drink.
Do you offer Brunch?
We offer weekend Brunch from Saturday – Sunday: 11:00 am – 2:00 pm.
Afternoon Tea used to be in The Georgian, which is now The George. Do you still offer Afternoon Tea?
Afternoon Tea is now offered in Fairmont Olympic Hotel's lobby bar, Olympic Bar on Saturday's and Sunday's by reservation only. Book here.
Does The George do anything special for birthdays, anniversary's or special occasions?
Please make a note of your special occasion in your reservation, so we can be sure to make this as much of a memorable experience as possible.
Is The George ADA compliant?
Yes, The George is ADA compliant.
I made a reservation but need to modify it. Who can I contact?
Please reach out to us via phone by +1 206 621 7889 or email by thegeorge@fairmont.com.
Does The George offer GF, Vegan, or other dining modifications?
The George has specific menu items that are made to be inclusive of those with food allergies or are in need of modifications. Our staff is easily accommodating with dietary restrictions and allergies.
Am I able to grab a drink at Founders Club after dinner in The George?
Of course. Founders Club is walk-in seating for first-come, first-serve, so we recommend to meet the host at the entrance of the bookcase to get seating.
I am interested in booking a room at Fairmont Olympic Hotel. Can I receive a discount?
We have several offerings for up to 20% off your stay when you book through Fairmont.com/Seattle. We also offer a special discount for residents of Washington, Oregon, BC & Alberta here.
Are you hiring?
Our careers page can be viewed here.